It's been a long time since I was in college, and therefore a long time since I took any writing courses. So… last year I signed up for a poetry refresher course, and then life got busy, and I haven't thought about it again, until recently.
One of the first assignments for this course is to write a Where I'm From poem, in the style of George Ella Lyon's poem by that same name. They even go as far as to give you a fill in the blank template from which to work from. And yes, I'm certainly rolling my eyes at this one. How old are the people who take this course anyway? Sheesh!
To start, you're prompted to do some brainstorming and think about memories and things from your past and present, while jotting down things that stick out. Then you move on to the fill in the blank portion where you insert words or phrases that come to mind as prompted. Lastly, you go through and refine and rearrange as you like, until you make it your own work. It really isn't that far off from the method many writers use, except we don't usually get a fill in the blank template. Rightfully so.
Prior to this, the instructor of this course said that the new rules of modern poetry are that there are no rules. You don't have to rhyme or worry about meter. You just have to put words to paper and convey quite a lot of information to your reader, with very little words. Basically, the opposite of prose. And yeah, I can see that. I've seen the shift in modern poetry to something a bit more abstract and outside of the box, and I definitely find it interesting, But for me, I'm more of a purist I suppose. I still love the the lyrical rhythm of poetry.
So, of course, my poem isn't exactly following the style of George Ella Lyon's, but for it to work in my mind, it needs some rhythm. And so, here it is, my poem…
---
Where I'm From by T.M.L
I am from Coffee, from Folgers and Cigarettes. I am from the fireflies in Granny's backyard. Twinkling and zooming about, as we tried to capture them. Well, we tried, but it was hard. I am from the Daffodils, and the Pine Trees their needles always littered the ground.
I am from Biscuits and Gravy, from Berta Dell and Betty Sue. I am from Alcoholics and Mormons from be Ladylike and Submissive too! I am from Jesus Loves You, conditionally, of course.
I am from The South and Viola's Family Tree, from Fried Potatoes and Sweet Tea. From my Father's mental anguish, remnants of the Vietnam War. From my Mother's childhood, and the scars she always bore.
I am from the shoebox of family photos, tucked away in my closet, but always near. I exist in those memories, happy and sad, but I no longer linger here.
---
I find writing prompts such as this to be difficult in that I'm forced to write about myself and my family. Unlike many, I didn't grow up in an idyllic setting. Many of the memories from my childhood and even into my adulthood aren't memories I care to revisit. I find myself searching for the good, yet I get weighed down by the bad. But, in this assignment, I tried to not spend too much time on the bad, and tired to sprinkle just enough of the good here and there to keep this poem from being too dark. Hopefully, I have accomplished that.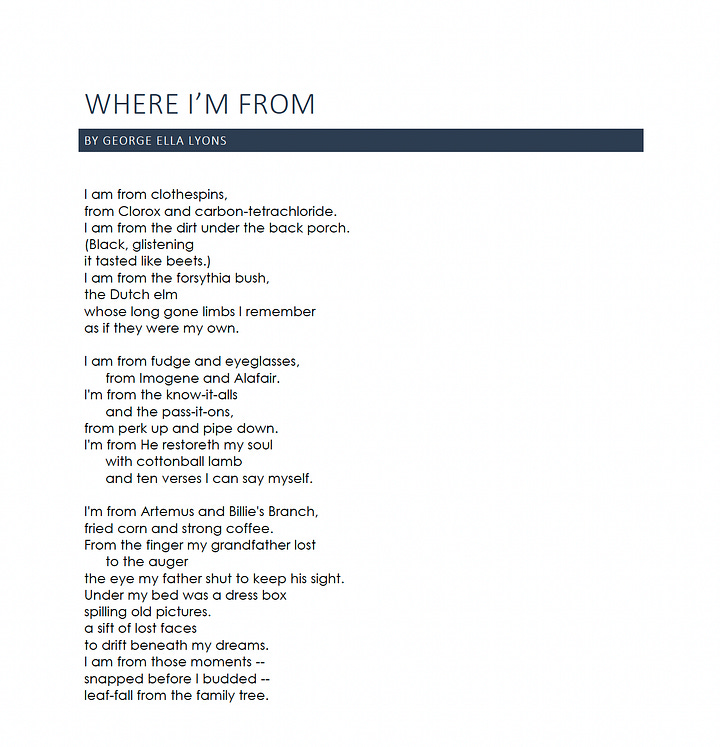 Above is George Ella Lyon's Poem, and then the poem template from the course. In case you guys want to play along and create your own poem. Hopefully it's a more lighthearted assignment for you.
And until next time… be loving, be kind, be better!